Hey!
I've been working on some concept stuff for a TV commercial for the WWF (World Wildlife Fund), and I thought I'd share some of it with you.
Its about protecting endangered species and is supposed to look like a child has drawn it, using wax crayons.
Here is a rough colour and style test I performed based on a Tiger character which will be in the final commercial.
Click to Enlarge: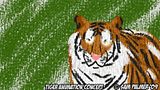 And feedback is more than welcome, in fact, its encouraged:)
Sam.