I've been drawing lots of Transformers recently, which is never a bad thing.
For those who know me, they know I'm a toy collector, and now that Marvel Legends figures have more or less disappeared, I'm now solely a Transformers collector, and I have like 100 of the little blighters to show for it, so its definitely more than a nostalgia kick.
Anyways, I've drawn, inked coloured and lettered a 1 page Transformers comic (written by Mario Coleman of Apocalypse Comics) for IDW's "Transformers: Mosaics" series, which I'll put up on here at some point in the future, maybe once its been published online by IDW.
But, all is not lost, Here is a Bruticus commission I've done, also for Mario, to display in his Comic Shop. This commission was done for the princely sum of (Drum Roll Please...) A 1985 Transformers Video. Yeah, a VIDEO. Thats how much of a Transformers fan I am, I create artwork that takes 2 days for a piece of redundant technology I can't use. Good Times!
Click to Enlarge: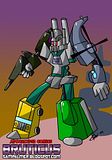 On the Transformers front, I found some line art, drawn by the awesome Casey Coller, and decided to try my hand at some realistic (Well, comic style realism) colour and tone, and I think the results are pretty good.
Credit goes to Casey Coller of IDW comics for the awesome line work!
Click to Enlarge: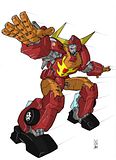 As usual, comments are greatly appreciated!
'Till all are Won,
Sam.