Hey, thought I'd share this with you.
I was recently commissioned to create an entrance way for a UK Wrestling promotion, and unfortunately, I was unavailable to attend the debut of my handywork, due to other working commitments.
So, using the power of imagination, a nice little program called 3D Studio Max and very limited 3D modeling skills, I made my own little version, so I could see what it might look like.
Click to Enlarge: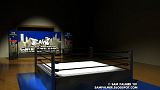 Entrance way, Wrestling Ring, flooring, room and lighting all done (poorly) by me.
Crits very welcome.
Sam.