Hey, me again.
Been working on compositing 2D flash animated characters into 3DStudio Max, so thought I'd share some of my results with you nice folks.
Here is a test render I've done, in the actual animation, the blue monster is on a repeating walk cycle, and the water shimmers and flows along a current, with numerous reflections and stuff going on.
Click to Enlarge: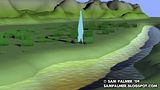 I'm testing as I'm including this kind of 3D/2D composition for the WWF TV commercial I mentioned in a previous post.
Credits: Blue Monster walk cycle - Sam "FargelEX" Miller.
Rest: Me.
Sam.