Hey, I've been working on some new pieces, so thought I'd post them up here for you to check out.
Firstly, Here's Death's Head, a character I wasn't really too familiar with, and isn't strictly speaking a Transformers character, but has been featured in Transformers comics of the past. This drawing was a semi-commission by noted comic artist Simon Williams (Well, he asked me to do it and I did...:P).
Click to Enlarge: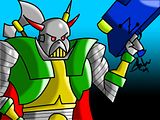 And, here is Transformers Hot Rod. My favourite Transformers character of all time, who I'd never really had a shot at drawing before, but think I'll be drawing a lot more from now on:) I tried to give him an innocent look and a cheeky grin to show that he is immature, yet cocky and head-strong.
Click to Enlarge: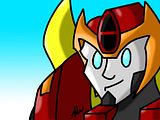 So, feel free to leave comments and stuff!
Sam.